Sidebar
Garmin Tri-Tronics Pro 550 Dog Training Collar - 1600M
Remote Trainer Features:
* 21 levels of continuous and momentary stimulation with Tone and Beacon Light
* Up to 1600 metres range
*
Waterproof (IPX 7) System
* Rechargeable lithium-ion batteries in both the remote and receiver. 60 hour run time
* Expandable system can control up to 3 dogs by one transmitter
* The
Garmin Pro PT10 Add a Dog Collar
can be purchased from
here
.
* Colour coded switch to be matched with colours of dog collar strap
* Battery life indicator on Transmitter and Receiver so you know when to charge the system
Bark Control Collar Features:
* Bark Odometer to count how often the dog barks
* Accelerometer sensor: only the dog with the collar can activate it
* Autorise mode: automatic, self-adjusting levels of correction
Download Garmin Pro 550 Manual From here.
Brand

SKU:

92-GAP-002

UPC:

753759114367

Condition:

New
Recommend Dog Breeds examples (Over 6 months)

*Kelpie *Cattle Dog *Border Collie *Staffy *Bull Terrier *Whippet *German Shepherd *Labrador *Golden Retriever *German Shorthaired Pointer *Australian Shepherd *Husky *Rottweiler *Doberman *Ridgeback *Maremma *Wolfhound *Bull Arab *Weimaraner *Boxer *Mastiffs
The new Garmin PRO 550 advance dog training collaris designed for the serious professional with easy access to 21 levels of momentary and continuous stimulation, tone as well as the ability to quickly switch between 3 dogs. The Garmin PRO 550 features tone, remotely operated beacon lights on the dog training collar to help with locating your dog in low light. A top-mounted selection dial provides for 7 levels of stimulation and with the 3 output levels from stimulation buttons the system provides a total 21 levels of correction for adjustability without complexity. It also features remote-operated LED beacon lights on the dog device for low light conditions and built in BarkLimiter, activated on the dog device, for a quieter kennel.
The system is fully waterproof and rechargeable. The transmitter charging system is a "smart" system - it automatically reads battery capacity and adjusts the charging time as needed. Fully charged units may be left on the charger indefinitely. Batteries in the collar and transmitter are user replaceable with 2 hours quick charge feature.
Stimulation setting
The GarminPro 550 has 7 levels of stimulation. There are 3 training modes in each stimulation level which are low, medium and high mode.
Momentary Stimulation – one single stimulation which is regardless of how long the button is pressed
Continuous Stimulation – a continuous stimulation when pressing the button, the max duration is 8 seconds
Tone – a tone can be used for positive or warning depending on your training program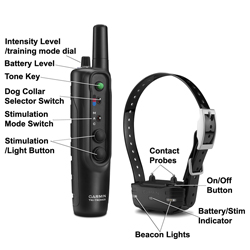 The GarminPro 550 system provides several training modes, which assign different combinations of momentary stimulation, continuous stimulation, and tone to the training keys. The three vertical letters next to the mode toggle switch correspond to the training key functions, from top to bottom.
| | | | |
| --- | --- | --- | --- |
| Button | Momentary (M) | Accessory (A) | Continuous (C) |
| Tone only Button | Tone | Accessory | Tone |
| Upper Training Button | Medium | Beacon Light On | Medium |
| Lower Training Button | Low | Beacon Light Off | Low |
| Hold Both Buttons | High | N/A | High |
BarkLimiter
The GarminPRO 550 collar can work as a bark control collar. When the anti bark feature is activated, you don't need to use the remote transmitter to control the collar, the collar works automatically by itself. When the dog barks, the collar detects the barking and emits the lowest stimulation. If the dog does not stop barking, the intensity level will increase until the dog stops. When the collar is not activated, the collar will reset itself back to the lowest level.
Bark Odometer
It counts and displays the number of times the dog barks since it was last turned on. This can help with tracking the dog's barking. The Red Flash stands for 10 barks and Green Flash stands for 1 bark. So if the dog barks 24 times during last ON/OFF period, the collar should flash 2 Reds and 4 Greens when you turn off the collar.
Package includes:
Garmin Pro receiver collarwith black strap
Garmin Pro 550 transmitter with 3 colour coded switch
Collar battery charging cradle, transmitter charging cradle + dual lead wall charger
Set of long contact points
Set of short contact points
Owner's manual
Garmin PRO 550 Transmitter handheld
Size: 5cm x 4.3cm x 8.2cm
Weight: 221g
Colour coded toggle switch that allows the system to train up to 3 dogs
Quick Stimulation Mode switch for operation
"M" setting for Momentary stimulation
"C" setting for Continuous stimulation
"A" setting for beacon light or other accessories
Fully waterproof and rechargeable
Durable and made of Lexan plastic which is the same material used to make bulletproof windshields
Short and fixed antenna designed for longer, more consistent range
LED indicator for battery levels
Garmin Pro receiver collar
Size: 4.4cm x 4.4cm x 7.8cm
Weight: 98g
On/Off switch activated at the collar
Fully waterproof and rechargeable
Durable and made of Lexan plastic which is the same material used to make bulletproof windshields
LED indicator for battery and operation
Please note: Dogmaster Trainers does not recommend that the customer leave the static correction collar on the dog for more than 8 hours per day as this may cause 'pressure necrosis'. Please also check your dog's neck for irritation and wash neck each time after using the collar and clean the contact probes with alcohol every week.
Never written a review before, but this collar has changed everything. I have a 21 month old BIG Bull Arab boy. He is instinctively obedient, when he wants to be. Beautifully natured but easily distracted.. This collar has removed the distraction component. Two beeps and he returns from anywhere. Have had to use the shock setting a couple of times (because of other dogs), after that he is smart enough not to need it again, just one beep. THANK YOU DOGMASTER and Garmin.