Sidebar
Garmin Tri-Tronics Sport PRO 3 Dogs Training System
Features:
* Includes 3 collars to train 3 dogs with one remote
* Suits medium to large stubborn working dogs and hunting dogs
* 10 levels of continuous and momentary stimulation
* Non stimulation vibration, tone and beacon lights
* Up to 1200 metres range
*
Waterproof (IPX 7)
& Rechargeable Handheld
*
Waterproof (1 ATM)
& Rechargeable Collar - Dog Device
* Transmitter with colour coded switch to match with collar colours to help identify
* Battery life indicator on Transmitter and Receiver so you know when to charge the system
* Built in Barklimiter Bark control collar
* 1 Year Warranty
* The
Garmin Pro PT10 Add a Dog Collar
can be purchased from
here
.
Download Garmin SportPro Manual From here.
Brand

SKU:

92-GAP-012

UPC:

753759114435

Condition:

New
The New compact and lightweight Garmin Tri-Tronics Sport PRO Dog training collar is simple, intuitive and so easy to use in 1 hand, you don't even have to look at the transmitter to operate. This 3 dogs system comes with 3 collars which allows you to train 3 dogs with one remote in up to 1200 metres range. Quick turn dial gives positive clicks when changing between 10 stimulation levels output. The Sport Pro has built-in BarkLimiter feature which can be activated from the transmitter or the collar independently. This remote dog training system is perfect for mid range medium to large size dog training.
Garmin Sport Pro overview
Rugged, Ergonomic Design
The Sport PRO dog training system is easy to operate with 1 hand, so you can keep your eyes on your dog at all times, even while switching between stimulation levels and different dogs. The quick stimulation dial at the top of the handheld provides positive clicks when changing between 1 to 10 stimulation levels, tones and other auxiliary functions, allowing intuitive operation. The multi-dog toggle switch and color-coded buttons comfortably line up in your hand for fingertip control.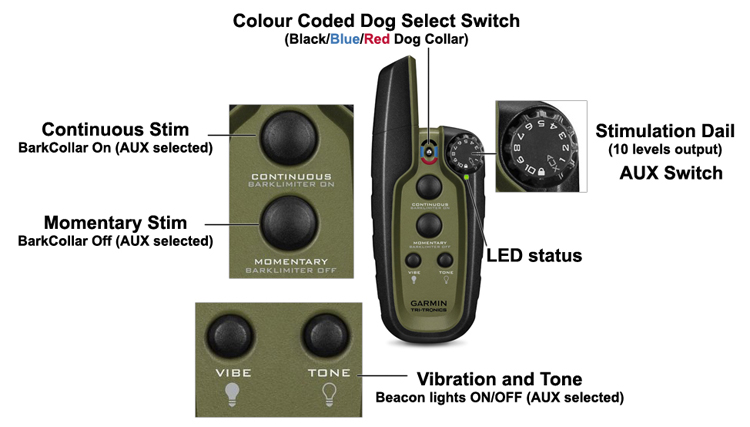 Built-in BarkLimiter with Settable Levels
Sport PRO features a built-in BarkLimiter with settable levels. You set the level and increase it as needed, adjusting the correction to the optimum level needed to stop each dog's unwanted barking. There are two ways to activate the barklimiter feature of the collar. It can be enable remotely from transmitter or activated from the collar directly. When the barklimiter mode is activated from the collar directly, the collar works independently by itself which means the transmitter won't be able to control the collar. The collar needs to be turned off and on to work with the transmitter again.
Bark Control Collar Features:
Remote operated BarkLimiter mode (activated from Transmitter)
Manually adjustable levels of output
Auto-rise stimulation levels
Vibration only
Independent Barklimiter Mode (enable from Collar)
Bark Odometer to count how often the dog barks
Auto-rise mode: automatic, self-adjusting levels of correction
PT10 Collar
Height: 40mm
Width: 75mm
Weight: 122 grams
Handheld Transmitter
Height: 135mm (Including Antenna)
Width: 54mm
Weight: 120 grams
Please note: Dogmaster Trainers does not recommend that the customer leave the static correction collar on the dog for more than 8 hours per day as this may cause 'pressure necrosis'. Please also check your dog's neck for irritation and wash neck each time after using the collar and clean the contact probes with alcohol every week.
"The laws concerning possession and use of this product vary from state to state. Please check our terms and conditions for more information before completing your purchase."