Sidebar
Garmin DriveTrack 71 GPS Dog Tracker and Car Navigator Protection Pack
Features:
* Works with Astro 430 or Alpha 100 (software update required) GPS dog system to track your dogs
* Displays roads, trails and dog locations on a bright 6.95-inch high resolution display
* Includes preloaded TOPO Lite AU/NZ mapping
* Detailed road maps of Australia and New Zealand with map and traffic updates
* Road map gives spoken turn-by-turn directions, plus driver alerts for sharp curves, speed changes, school zones and more
* Easy to track dogs with On road and Off road maps
* Bluetooth smartphone connect for handsfree and smart notification
* Driver Alerts and live Traffic Notifications
* 1 year warranty
Download Garmin Drivetrack 71 Manual From here.
Important !
Please
perform software and firmware update
for Garmin products before use.
Brand

SKU:

90-GDT-071

UPC:

753759212803

Condition:

New
Package including: Garmin Drivetrack 71, rubber case, long neck premium window suction mount (fit Drivetrack or Alpha 100/Astro 430) and iron screen protector.
The 2nd generation "Big Screen" for Garmin GPS dog tracker is here. The Garmin DriveTrack 71 "mirrors" your Alpha 100 or Astro 430 GPS handheld screen to a bigger 6.95 inch high resolution display when you track your dogs in the car. With the bigger and brighter display, you will be able to see your dogs' status much easier when on the move. The Drivetrack 71 has preloaded city turn by turn navigator map and Topo lite map which can be used on road or off road. When tracking with the Garmin Alpha/Astro dog tracker, the Drivetrack 71 shows multiple dogs' location, status, direction of moving and speed from the outdoor maps (Topo and Birds Eye). It can be also upgraded to the full Topo map (purchase here).

How does it work?
The dog tracking features allow you to see information transmitted from your Garmin Alpha 100 or Astro 430 handheld device on your Garmin DriveTrack 71 device. You can navigate to your dogs, view their current status and location, and observe the distance they have travelled.
Connect your Garmin GPS dog collar with Handheld device and make sure the dog information is show on Handheld screen.
Enable dog broadcasting from Garmin Astro 430 or Alpha 100 handheld device
Keep the DriveTrack 71 within 3 metres range of the Garmin handheld device. The DriveTrack 71 can only be connected to one Garmin handheld device each time so please keep other Garmin handheld device at least 5 metres away from the DriveTrack
The DriveTrack should automatically sync with the nearby Garmin handheld and the Dog icon should have a Green Tick under it when it is connected successfully.
Please note: Always have all the Garmin devices firmware update to latest version for "Problem free" use. The Alpha 100, Astro 430 and Drivetrack 71 can be updated via Garmin Express App from a computer (windows system) and Garmin Web Updater software for T5, TT15, T5 mini, TT15 mini collars. With the latest software update, the Broadcast Dog Data menu will come up. It has to set as "on" in the Alpha 100/Astro 430 handheld, otherwise it will display Lost connection on the DriveTrack 71.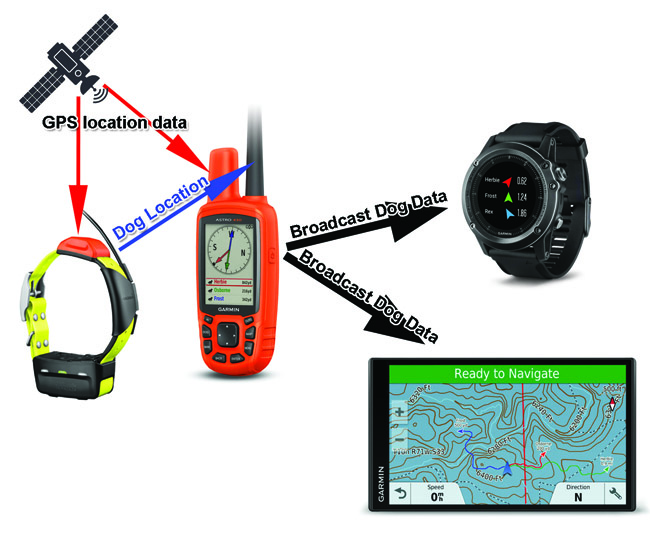 With the Garmin DriveTrack 71, you can easily track & see up to 20 dogs on a 6.95 inch big screen, pinch to zoom touch screen GPS tablet with up to 2.5 second update rate. The device comes preloaded with Garmin City Navigator Australia and New Zealand Map and Topo Lite AU/NZ outdoor maps which means you can use turn by turn direction GPS tracking in the city or directions only in the field.
Smartphone connection
The DriveTrack 71 connects to smartphones (Apple ISO and Android) via bluetooth (smartphone link app). With the smartphone connection, you can see who is calling, ignore or answer any calls, and speak through the built in speaker, receive texts and alerts from compatible phone apps - facebook, email, twitter etc all on a 6.95 inch HD touch screen.
Live Traffic
The DriveTrack 71 also has live traffic update which requires a smartphone and mobile data connection. The traffic alert will alert you if incident ahead. The outsmart traffic jams will give time-saving alternate routes, or avoid them altogether.
| | |
| --- | --- |
| General | |
| Physical dimensions | 17.3 x 9.9 x 1.9 cm |
| Weight | 243 g |
| Battery type | rechargeable litdium-ion |
| Display type | WVGA color TFT witd white backlight |
| Display size | 6.95" |
| Display resolution | 1024 x 600 pixels |
| Battery life | up to 1 hour |
| Memory/history | internal solid state |
| High-sensitivity receiver | Yes |
| | |
| --- | --- |
| Maps & Memory | |
| Preloaded street maps | Yes |
| Includes map updates | Yes |
| nüMaps Guarantee | Yes |
| Accepts data cards (extra Map support) | microSD™ card (not included) |
| Custom POIs (ability to add additional points of interest) | Yes |
| Waypoints/favorites/locations | 1000 |
| | |
| --- | --- |
| Navigation Features | |
| Speaks street names | Yes |
| Voice-activated navigation (operate device witd spoken commands) | Yes |
| Traffic compatible | Yes |
| Traffic updates | Yes |
| Lane assist (guides to proper lane for navigation) | Yes |
| Junction view (displays junction signs) | Yes |
| Route avoidance (avoid highways, tolls etc.) | Yes |
| Hands-free calling | Yes |
| Speed limit indicator | Yes |
| View upcoming points of interest along route | Yes |