Sidebar
Dogtra "IQ PLUS" Dog Training Collar - 365M
We are proud to be Dogtra's sole authorised dealer in Australia.
Features:
* Up to 365 metres range
* Expandable to control 2 dogs (with purchasing extra collar)
*
Waterproof
receiver collar (IPX9K)
*
Weatherproof
transmitter handheld
* Vibration and 100 variable levels in both continuous and nick stimulation
* Transmitter and collar are rechargeable with 2 hours quick charge
* Easy to use, comfortable and ergonomic transmitter
* Battery indicator
* 3 Year AU Local Warranty by DogMaster

* The
Dogtra iQ Add a Dog Collar
can be purchased from
here
.
Download Dogtra iQ plus Manual From here.
Brand

SKU:

92-DTA-049

UPC:

744622020427

Condition:

New
Dogtra IQ Plus receiver collar
Magnetic on/off switch
User-replaceable rechargeable batteries with 2 hours quick charge
Built-in 3 color LED battery charge indicator
Weight: 113g
Receiver Collar Dimensions (without collar strap): 5.7cm x 3.8cm x 3.2cm
The new Dogtra "iQ PLUS" is one of the best companion dog remote trainer for your big problem. This compact system has a range up to 364 metres, 100 levels in continuous and momentary stimulation, non-stimulating vibration (page), and 2-hour rapid charge batteries. The receiver collar is waterproof (IPX 7), and the handheld transmitter is water resistant. This system is suitable for dogs from 5kg in weight. The new redesigned "iQ PLUS" is also an expandable system to train up to 2 dogs with extra "iQ PLUS" collar.
Key Definitions:
The majority of Dogtra dog training collars for dogs end with the letters NCP, standing for "Nick" and "Constant" in stimulation mode, and "Pager" which is Dogtra's patented non-stimulating function.
"Nick" is used to correct unwanted behaviour by emitting a single, rapid stimulation pulse
"Constant" is used for training reinforcement and delivers a continuous stimulation which can last up to a maximum of 12 seconds. The stimulation will automatically turn off after 12 seconds.
This dog training collarhas 100 intensive levels of stimulation available in Nick and Constant mode.
"Pager" gives a vibration stimulation which is a great way of communicating with your dog. This is also beneficial with dogs that are hard of hearing.
1-Dog/2-Dog Selector Switch to select dogs during training. You will still have the vibration as well as static stimulation when training with two dogs.
I - 1-Dog
Slide the switch to the left underneath "I", and press any of the buttons to operate the 1st Receiver/Collar.
II - 2-Dog
Slide the switch to the right underneath "II", and press any of the buttons to operate the 2nd Receiver/Collar.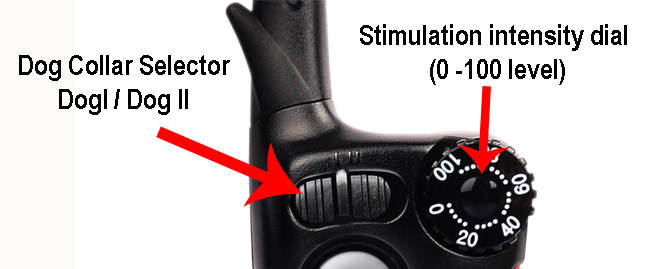 Stimulation
To select the correction level best suited to your dog, start at the lowest setting and start in a yard type area. Slowly work your way up through the levels until you notice a response from your dog, like a niggling effect or a halting effect if the dog were on a leash. This will be your initial training level and you are able to adjust the level according to your dog and the situation you're in, this will be noticeable in time of increased excitement or distraction. Heavy use of the Pager function with the remote trainer may drain batteries a little quicker.
3 color LED battery indicator
The LED color indicates battery life level. Green = full charge, Amber = medium, Red = needs charge
Specifications:
Transmitter
Height: 125mm
Width: 42mm
Weight: 78 grams
Collar
Height: 40mm
Width: 60mm
Weight: 114 grams
"The laws concerning possession and use of this product vary from state to state. Please check our terms and conditions for more information before completing your purchase."
We already have the IQ kit and just brought a 2nd collar. Have no problem of training 2 dogs in the same time. Easy to use.

One of my best investment. I had troubles of walking with my very high energy kelpie. He is always trying to pull the leash, run to another dog or kids. Now I have the IQ collar on him when we were walking, just press the button and say stop when he pulled. Then he stop!

Have just received the dogtra IQ plus trainer and couldn't be happier. the system is easy to use & light weight.The help & advice that I received from dogmaster was fast & useful. Highly recommend both product and company.

The IQ Plus kit is rechargeable, waterproof, good 300 metres range, zap, vibration. It has everything I need to train my Beagle. Highly recommended!