Nemtek Agri 8km Solar Electric Fence Energizer (built in battery)
Nemtek Agri 8km Solar Electric Fence Energizer (built in battery)
Features
* Robust solar bracket and weather-resistant housing
* Built in long life rechargeable lithium battery (with 2 year warranty)
* On/off TAG to switch the energizer on and off
* Battery charge state indicator
* Solar panel charge state indicator
* Deep sleep mode for battery safe mode storage
* Day/night sensor
* Star picket mounting
* Lightning protection

Ask a question
Product Description
Spec
Max Optimal Fence* length: 8km (with purchasing extra wire)
Power consumption: 625mW
Output energy into 500ohm: 0.66J
Energy: 0.68 Joules output. 0.825 Joules stored
10 Watt Solar Panel
Built-in solar regulator: Advanced MPP power management system
The new Nemtek Agri 8 Solar electric fence energizer is the true innovation of traditional electric farm fencing. This solar energizer comes with built in long life rechargeable battery which Nemtek provides a 2 year warranty on it. The Agri 8 Solar energizer comes with a 10 Watt Solar panel and it can power up max 8km single electric fence wire in optimal condition*.
How does the Nemtek Agri series Solar energizer work?
Operating the Nemtek Agri series Solar energizer is very straightforward. Hook up the energizer's positive (Red) to electric fence wire and negative (Green) to the ground wire. Use the "Tag" to turn it on and the system is live. It will pulse the fence wire one per 1.5 seconds. The "Energizer" light will flash once when it sends out the pulse.
About the built in battery
The Nemte Agri Solar energizer power light flashes Green if the battery is above 50% capacity, glows yellow when the battery capacity falls below 50% and red when below 5%. The energizer disconnects the battery when the battery becomes discharged and will reconnect it when solar power is available. The SOLAR led light is green when it is charging and red when battery is not connected. If the energizer is in sleep mode or not sending pulses, the energizer will disconnect the battery so it can be stored way in this state. The battery will automatically get reconnected when solar power is available or energizer is back on again.
Basic installation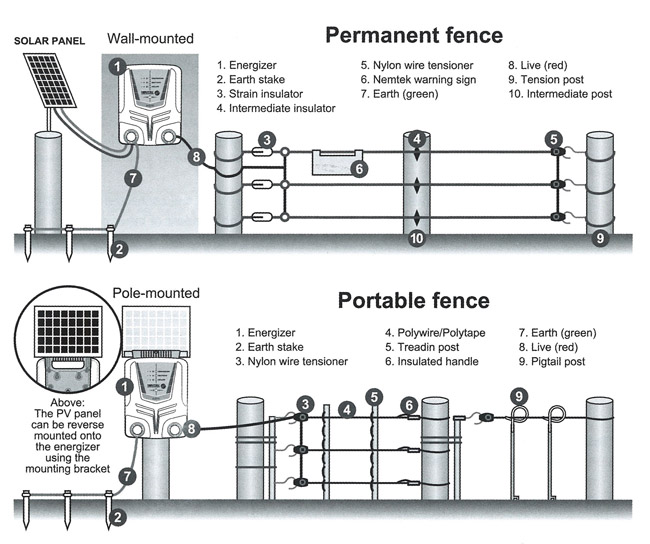 * Max Fence Length
The distances that can be powered by energizers are a guideline only and apply to optimal fence conditions. Factors such as the resistance of the fence wire, the type of fence wire, the installation of the fence, proximity of the live fence wire to other earth wires, the amount of vegetation touching the fence and earthing of the fence system will influence the distance that can be powered.