Garmin Delta Smart Bundle - Bark, Train, Deterrent & Activity Tracker
Garmin Delta Smart Bundle - Bark, Train, Deterrent & Activity Tracker
Features
* Waterproof and rechargeable (up to 3 week in standby mode)
* Tone, vibration and 10 levels of stimulation
* Suits dog from 3.5kg in weight
* Range up to 30 metres (outdoor), up to 10 metres (indoor)
* Comfort contact plastic probes which fits more comfortable on dog's neck
* Works with Garmin Canine App with compatible devices (Android and Apple IOS)
* Works with Garmin Keep Away Tags - keep dogs away from problem area
* Bark Activity tracker (dog monitor)
* User Training pattern tracker
* Keep Away Tag tracker
* 1 Year warranty

Download Garmin Delta Smart Manual From here.
Important !
Please
perform software and firmware update
for Garmin products before use.
Product Description
The Garmin Delta smart dog collar is the everyday solution for your Canine's behaviour problems. It gives you all the connectivity, monitoring and correction tools you need to help keep your dog safe, healthy and well behaved. The Delta Smart has built in Barklimiter bark collar function that stops nuisance barking. It can also connects to the smartphone via Garmin Canine App to use as a remote training system. The Garmin Delta Smart comes with collar only or bundle with the optional Keep away tag. When pairing the collar with the keep away tag, you can keep the dog away from your problem area at home like kitchen, bedroom, fridge, bin etc.
Bark Control:
Non stimulation tone and vibration mode
10 auto/manual adjustable levels of stimulation
Bark activity tracking mode (dog monitor) - no tone, vibration and stimulation given, activity tracking only
Vibration sensor to detect barking so only the dog with the collar can activate it
Manually adjustable number of barking allowed
Bark activity tracker - records how many times dog barks in a period of time
The Garmin Delta Smart collar features Garmin industry-leading bark detection and correction technology with manual and auto adjustable output correction to help keep your dog (and your neighbourhood) quiet.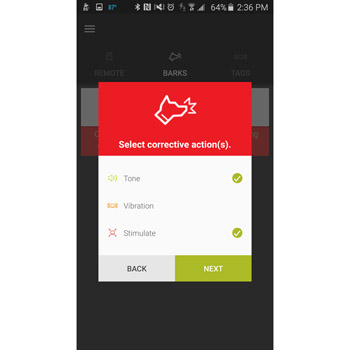 How does the bark control feature work?
The Delta Smart collar has a built in smart vibration sensor (bark accelerometer sensor) to detect dog's barking. It eliminates false activated by other dogs barking, movement or other noises. The Garmin Delta Smart stops the dog from barking by 4 stimulation modes: tone only, vibration only, 10 levels of manual adjust output and autoraise output stimulation. By using the Garmin Canine App, you can adjust the amount of barking allowed before the collar is activated. You can also set it as no barking allowed (so collar activated immediately when the dog barks). When turning the barklimiter feature off (no tone, vibration and stimulation), this delta smart collar will work as a bark activity tracker only (dog monitor). It will record the dog's barking pattern and transfer all the data to your Gamin connect account. The data includes: date and time when the dog barks, duration of each bark, the stimulation level the dog received when it barks etc. (Data Sync requires the phone within 10 metres range of the collar)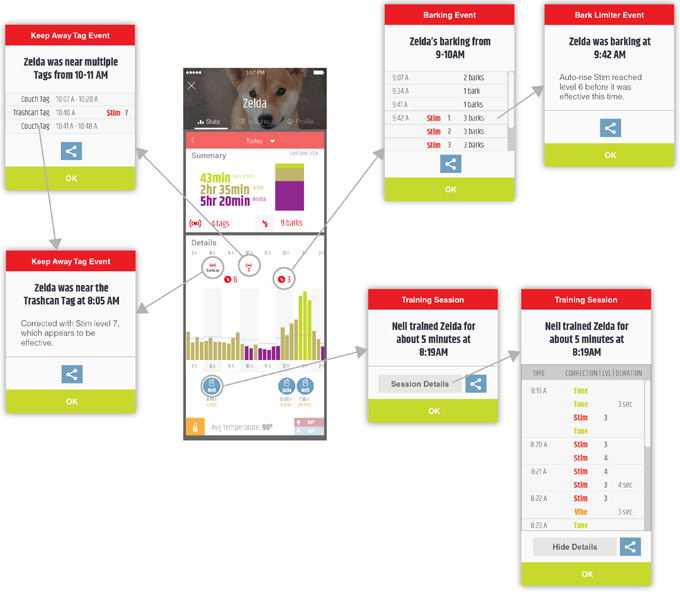 Remote training:
Tone, vibration and 10 adjustable levels of stimulation
Up to 10 metres range in door and 30 metres outdoor
Training Activity tracker - records the time and duration of training by different users
In order to use the remote training feature, a compatible smartphone is needed. The smartphone has to be either Apple IOS device or Android system device. After installing the Garmin Canine mobile app (available from Apple store and Google Play Store), you can use your smartphone as a remote handheld to control the collar. The Garmin Delta smart collar features 3 operation modes which can be customized to suit different dog's temperament. "Tone" for Tone/Beep only operation. "Vibration" is for vibration only operation. "Stimulate" comes with 10 manually adjustable levels of static correction. The Collar delivers a short 1 second stimulation when you just tap the button on your phone screen. It can also deliver up to 8 seconds continuous stimulation when pressing and holding the button. There is a training activate tracker section in the Garmin Canine mobile app. It records the date and time of training, duration of the training, who does the training, stimulation levels and modes during the training.
Keep away Tag
The Garmin Keep Away Tag with Delta Smart collar is used as a barrier that keeps the dog away from unwanted areas in up to 2 metres in diameter or a 1 metre radius. This Keep away tag is very small and the size is only slightly bigger than a 50 cent coin. It can be attached to any flat surface at home by double sided tape or velcro. The operation range of the Tag can be set from the smartphone which starts from level 1 to 10. If range has been set over 1 metre, the stimulation from the collar may not be consistent.
Dog Device Physical & Performance

Unit dimensions, WxHxD: 63 x 35 x 34 mm
Weight: 41g
Range: Up to 30 metres (outdoor), Up to 10 metres (indoor)
Multi-dog compatibility: yes (unlimited)
BarkLimiter: yes
Autorise bark correction mode: yes
Stimulation levels: 10
Battery: rechargeable lithium-ion (included)
Battery life: up to 3 weeks per charge
Water rating: 1 ATM
Collar compatibility: fits collar straps up to 2.5cm wide

Keep Away Tag Physical & Performance

Unit dimensions, WxHxD: 35 x 25 x 9 mm
Weight: 8g
Range: 30cm to 1 metre
Battery: CR2032H lithium coin cell (included)
Battery life: 3 months
Water rating: yes (IPX7)