Garmin Delta inBounds wireless Dog Fence kit - Up to 2 Acres [GAD030]
Garmin Delta inBounds wireless Dog Fence kit - Up to 2 Acres [GAD030]
Features
* Wireless system (no wire) covers up to 2 acres area
* Suitable for dogs from 4kg in weight
* Return with no correction to containment area
* Built in Barklimiter bark control feature
* Works with Free Garmin Canine app on smartphone
* Works with Garmin Keep away tag dog deterrent device
* Long and short probes for various dog coat lengths
* Waterproof and rechargeable collar
* Transmitter power backup with optional 3 AA batteries (up to 4 days)
* Transmitter has IPX7 water resistant rating

Download Garmin Delta inBounds Wireless Dog Fence Manual From here.
Important !
Please
perform software and firmware update
for Garmin products before use.
Product Description
The new Garmin Delta inbounds wireless dog fence system is a true innovation of e collar technology from Garmin. Forget about the traditional radio fence, bark control collar and pet training system, this Garmin Delta inbounds kit is an all in one solution for dog behaviour problems. The portable Delta inbound transmitter unit is so small and can be powered by standard power outlet or 3 AA batteries (up to 4 days). With IPX7 water resistant rating, this Delta inbound transmitter can almost mount anywhere around the house (with 1.5 metres height from ground level). The Delta inbounds system is able to contain up to 2 dogs (with purchasing extra Delta inBounds Collar) within 2 acres area. The collar is similar to delta smart collar with built in barklimiter bark control collar and also works with Garmin canine app. It can be used as a remote training collar with smartphone or Garmin Delta Smart remote as well as keep away tag as a dog deterrent device.
Kit includes: 1 x Garmin Delta inbounds transmitter, 1 x Delta inbounds collar, 1 x keep away tag, 2 x power adapters, 1 x charging clip for collar, 25 x training flags, a pair of long contact probes and short probes, 1 x CR2032 battery, 3 x collar bands, 1 x collar strap, 1 x wall mount bracket, manual
Portable Wireless Dog Containment system
The Garmin Delta inBounds is a 100% wireless dog containment system with no wires needed to be buried. The transmitter unit works in 2.4Ghz @ 18 dBm frequency which is able to cover up to 2 acres area or 50 metres radius. When the dog walks close to the pre-set boundary, the dog will receive a warning and followed by a pre-set static correction. After training, the dog should know to stay away from the boundary by warning beep/vibration. As the transmitter box is water resistant and can be powered by 3 AA batteries (up to 4 days), the Garmin Delta inBounds system is a perfect portable containment system for travelling and camping. When the dog is trained to understand about the warning beep and static correction to the boundary, he would work out the new containment area by the same warning beep and static correction. However, a brief introduction by leashing the dog around the new boundary is highly recommended.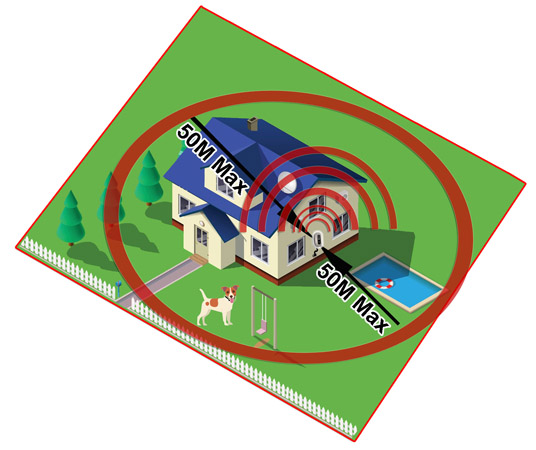 Dog containment boundary width can be adjusted from Delta inbounds transmitter unit or from Garmin canine app. The coverage area can be set from 3 metres radius to 52.5 metres radius (28 sqm to 8654 sqm). The collar has 10 manual adjustable levels of stimulation along with warning tone and vibration (optional).
Please note: Big metal object and wireless radio transmitter (Radio, WiFi router, Bluetooth, Wireless phone) could affect the signal strength and coverage. Please put the dog collar in warning tone and vibration mode to test the actual boundary/coverage. DogMaster Trainers have done testing of this product and find a very good result of this Delta Inbounds system by transmitting signal through cars, big trees, timber, brick, metal and big roller door. From our test result, it does affect around 5% of the signal behind big objects which means about 2 metres different in some spots of max 50 metres range setting. We recommend putting the transmitter box about 1.5 metres off the ground to gain max result.
Barklimiter Bark Control Collar
The Delta inBounds collar has a built in vibration sensor to detect dog's barking. It stops the dog from barking by 4 stimulation modes: tone (Beep), vibration, 10 levels of manual adjustable output and autorise output stimulation. By using the Garmin Canine App, you can adjust the amount of barking allowed before the collar is activated as well. For example, the inbound collar can be set to no barking allowed (so collar is activated immediately when the dog barks). The collar could work as a bark activity tracker (dog activity monitor). It records the dog's barking pattern and transfers all the data to your Garmin connect account. The data includes: date and time when the dog barks, duration of each bark, the stimulation level the dog received when it barks etc.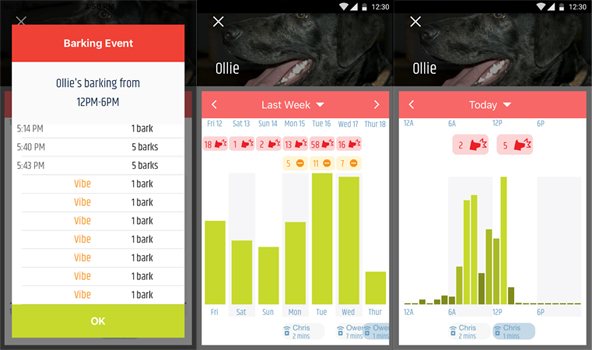 Dog Training collar
By connecting the Garmin Delta inbounds collar to a compatible smartphone or optional Garmin Delta Smart Canine remote, the inbounds collar can be used as remote dog training collar. The Smartphone will give max 10 metres indoor and 30 metres outdoor range, and up to 10 metres range indoor and outdoor for Canine Remote. The Inbounds collar has Tone, Vibration and 10 adjustable levels of static correction to suit different dog's temperament.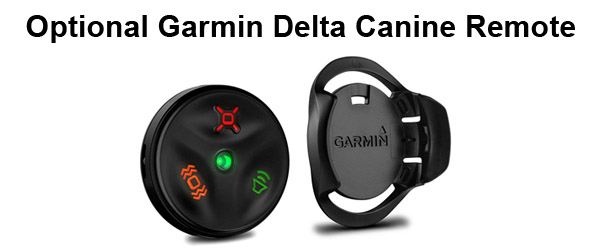 Dog Deterrent – keep away tag
The Garmin delta inbounds kit comes with one Delta Keep Away Tag. It is a barrier that keeps the dog away from unwanted areas in up to 2 metres in diameter or a 1 metre radius. This Keep away tag is very small. The size of the tag is only slightly bigger than a 50 cent coin. It can be attached to any flat surface at home by double sided tape or velcro. The operation range of the Tag can be set up from the smartphone which starts from 30cm to 1 metre. If range has been set to maximum, the stimulation from the collar may not be consistent.
Base Unit Physical & Performance
Unit dimensions: 80 x 117 x 33 mm
Weight: Base unit (without AA batteries): 143.9 g; Base unit (with AA batteries): 215.9 g
Range (containment radius): Up to 2 acres (50 metres radius)
Multi-dog compatibility: up to 2 dogs
Battery: Mains Power or 3 x AA batteries
Battery life: Up to 4 days with AA
Water rating: IPX7 (up to 1 metre for 30 mins)
Dog Device Physical & Performance (Max 2 Collars)
Unit dimensions: WxHxD: 71 x 35 x 36 mm
Weight: Dog device 50g
Range (containment radius): Up to 2 acres (45 metres); when using Smartphone as remote trainer: up to 30 metres (outdoor), up to 10 metres (indoor)
Built-in BarkLimiter: yes
Stimulation levels: 10
Vibration/tone: yes
Activity tracking: yes
LED beacon lights: yes
Battery: Rechargeable lithium-ion (non-replaceable)
Battery life: up to 2 weeks
Water rating: 1 ATM
Collar compatibility: fits collar straps up to 2.5cm
Garmin Canine app compatibility: yes
Contact points: Replaceable/long and short plastic (included)
Keep Away Tag Physical & Performance
Unit dimensions: WxHxD 35 x 25 x 9 mm
Weight: 8g
Range: 30cm to 1 metre
Battery: CR2032 lithium battery
Battery life: up to 3 months
Water rating: IPX7 (up to 1 metre for 30 mins)
Garmin Canine Smartphone App
Free Garmin Canine app available from Apple iTunes and Google store
Monitors dog activity (barking, training, escaping, keep away tag etc)
View the Bark Limiter Bark Odometer and track barking activity
Configures containment settings including perimeter range, stimulation settings
Enables smartphone as a remote training system
Setup Keep Away tag and range
Bark control collar settings (bark mode on/off, stimulation on/off, bark allows)