Electric Fence Buying Guide
Electric Fence Buying Guide
DogMaster Trainers' Electric Fence Buying Guide
Choosing Energizers
Output Energy into 330ohm
Recommended PV panel
(Open circuit voltage max 23V)
The distances that can be powered by energizers are a guideline only and apply to optimal fence conditions. Factors such as the resistance of the fence wire, the type of fence wire, the installation of the fence, proximity of the live fence wire to other earth wires, the amount of vegetation touching the fence and earthing of the fence system will influence the distance that can be powered.
Typical electric fence for small property with good earthing (no ground wire)
If the earthing conditions are good all year round, then a few electric fence level wires are enough. The good condition earthing means getting rains very often in the area, the soil moisture level is good.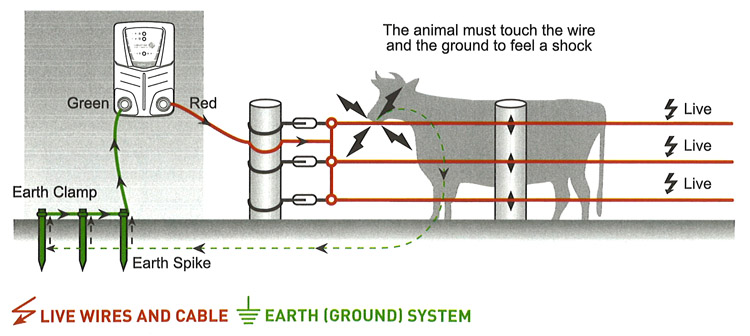 Typical electric fence for small property with inadequate earthing (with ground wire)
If the earthing is not good due to poor soild condition or seasonal changes in soild moisture levels, you will require additional earthing wire to install into the electric fence circle. This makes the electric current runs along the ground wire instead from the ground.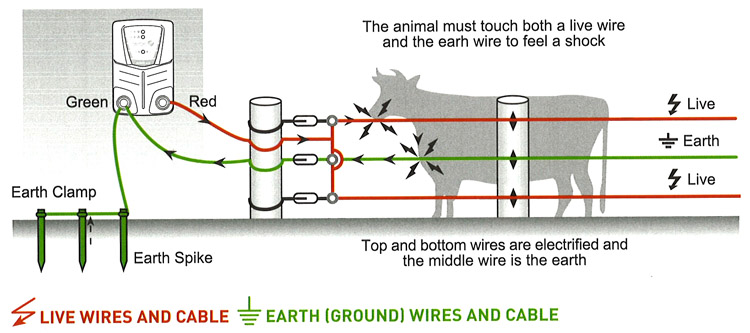 Typical electric fence for large property with inadequate earthing (with ground wire and extra ground rods)
A ground rod need to be installed at least 100 metres away from the energer ground rod and extra ground rods need to be added at least 100 metres way from each other. This will make sure the electric current runs pass in a shorter circult. The strenght of the ouptut voltage can stays better even in longer distance.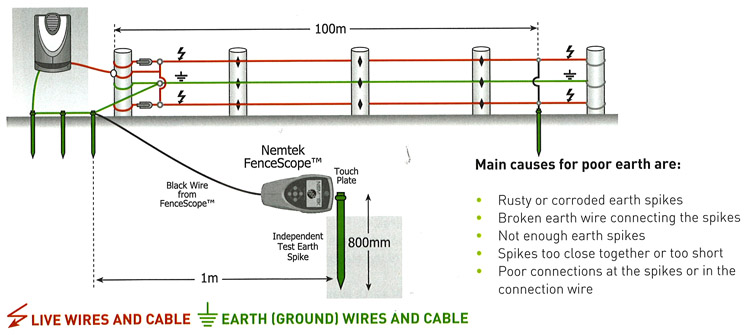 Choosing Different Type of Electric Fence Wires
The Recommended Max Length is base on ideal situation, such as combine with energizer that have enough output to power up the max distance, installing the system in good soil ground, installing properly with enough ground wire and ground rods. The Max length is also based on the energizer is powering one single wire in straight line only, not by multiple wires in different lines.
The voltage output measured from the end of the max length of the wire.
Voltage at Start of Fence
Examples of livestocks and voltages output table
Suitable Voltage output range
6000 - 1000 (depending on the dog breeds and size)
Electric Fence Polywire (wires) Resistance
The resistance of an electrical conductor (electric fence wire) is a measure of the difficulty to pass an electric current through that conductor. The higher of resistance means harder to pass an electric current. The resistance rate is made for different purpose. The higher resistance wire will suits smaller pets and livestock as it has less voltage output. The lower resistance suits bigger property as it needs to make sure the electric current can travel a longer distance.
There are no products listed under this category.